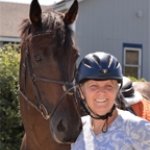 Toy Box Farm is a place for horses and their people to feel happy and safe. I arrived here more than 25 years ago, after being critically injured at another farm I vowed to find a great facility with a truly professional staff and I have never regretted my decision to move here.

The staff of Toy Box Farm is professional and friendly and they conduct themselves with genuine concern for the horses. They come to know the horses very well and keep close watch over them. The turnover rate is extremely low and even those that do leave tend to keep in touch.

Toy Box Farm is outstanding in so many ways. I'm glad it's my home away from home. My horses couldn't be happier, either.
– Janice Pellegrino